Dissolve Amelia website!
Sign The Petition
Submit Feedback
Home



Members At large, Elected Or Appointed



The following email was sent to Ellington on 10/10/2008.

Mayor Ellington:

First let me thank you for your rapid response to a question I sent you a week or so ago concerning the ordinances not being posted on the Village website. They were posted only a day or 2 after I asked about them. Again, thanks. I have a few other questions.

While reviewing information on the Village Web Site I couldn't help but notice a number of positions with what was called Member at Large. David Woessner, Melita Ellington, Michelle Balside, and John Wainscott being some of the names I saw.

What does Member at Large mean?

Were the above people elected or appointed?

If they were appointed who or what appoints them?

Is there a process for selecting the "at large" members and can anyone apply?

Thanks ahead of time

John M Toren
Amelia Resident, 43 years



Photo of email sent on 10/10/2008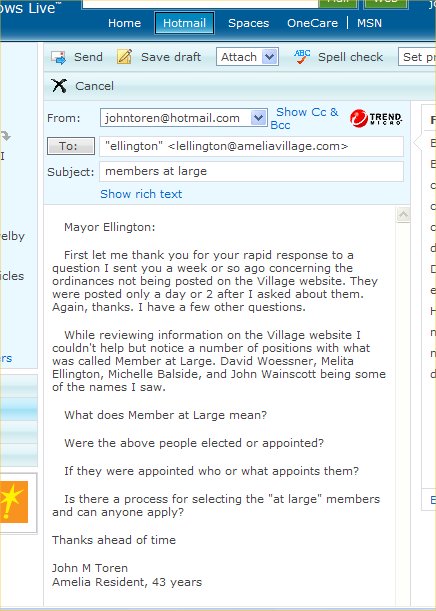 I did not receive a response for this question and since the Village emails may have been compromised I decided to send it again on October 24th, 2008.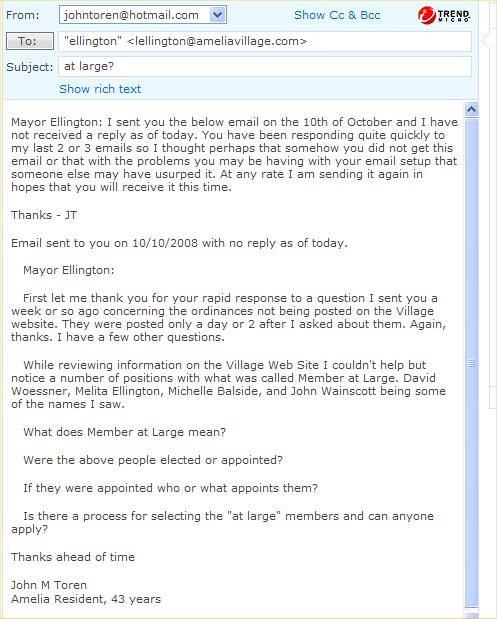 I received the following response the same day.


Top
__________________